Signup For Our Rate Alert Emails!
Our Rate Alert Emails will show you how our rates are better than the big guys. We not only provide you with our rate for the day but also the rate of our competition. We are confident that our rates are the best in the business and we make it easy for you to compare. The best part is not only do you get a great rate but you get the personal attention you deserve not a 800 service department line where you are just another file. You are a commitment to us not a file number.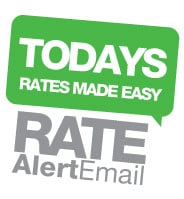 Sign up and see for yourself:
We provide you with today's rates right in your email!
We provide you with easy access to our competition!
Help make it easy for yourself and lock-in the best rates in the business.
We keep all contact information confidential and make it easy for you to opt when your ready. Weather you just curious what kind of rates are out there or you want to lock in the best rate this will send them to you no matter where you are, or how busy you get.