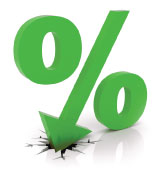 Welcome back sub-prime? Well not necessarily. But Fannie Mae and Freddie Mac has revamped a 2yr old refinance program created under HARP (Home Affordability Refinance Program) and has re-launched it as HARP2 or DU Refi Plus. HARP2/DU REFI PLUS' new features will increase the availability of refinancing to millions of Americans currently left on the sideline due to falling home values. Estimates put this number as high as 2 million new eligible loans.
Although the program was announced in late December 2011 it wasn't until mid-to-late March that DU (automated underwriting system used in mortgage lending) was updated with the new underwriting requirements. Lenders were left to underwrite loans manually. As a result, few of these loans have been completed to date. Starting this April availability is going to be wider.
Here are the features of HARP2/DU REFI PLUS that promise to make the biggest splash:
Mortgage insurance certificates can be recertified
In the past, if your current loan had mortgage insurance (MI) and the appraised value of the home fell, thus increasing the loan-to-value (LTV; loan divided by home value), the MI company would not honor the past MI certificate. The requirement for a new MI certificate would disqualify the loan from the HARP program which was designed to allow for higher LTV. This completely eliminated a segment of home owners who most needed the benefits of HARP designed to provide relief in cases where homes values had fallen. HARP2/DU REFI PLUS now allows for MI certificates to be recertified with no maximum LTV. Although the program allows for unlimited LTV, most investors are capping the MI recertification to 105% LTV and possibly higher if they are currently servicing the loan (i.e. – the company you pay each month). This is the biggest break through, one that had previously left everyone scratching their head from the beginning.
No Income verification! Well kind of...
HARP2/DU REFI PLUS allows the lender to merely obtain a verbal verification of employment with no paystubs, tax returns nor W2s to document your employment income. Per HARP2/DU REFI PLUS the lender need only: enter data that is complete, accurate, and not fraudulent; and follow instructions as outlined in the DU Underwriting Findings Report. So what does this mean for you? Well, welcome back stated income, kinda. This is perfect if you are self-employed with tax returns that can run upwards of 120pgs and who under normal refinance requirements are required to produce year-to-date profit and loss statements. It's also great if you're not, as you don't need to provide any paystubs, W2s nor tax returns. The reason I said kinda earlier is because you will be required to provide authorization to pull your tax transcripts directly from the IRS. So although it's not technically stated income it is a streamlined process that makes the application hassle free and quick.
No appraisal required. Really? Yes.
Under normal refinancing protocols full appraisals are pretty much mandatory any time the loan-to-value is estimated in excess of 80%. However HARP2/DU REFI PLUS makes exception to this requirement and under most scenarios will waive the requirement for any appraisal; instead opting for what is known as a "property fieldwork waiver".
The following transactions are eligible for a property fieldwork waiver:
one-unit properties;
primary residences, second homes, and investment properties;
loan with an LTV, CLTV, or HCLTV greater than 125%;
attached and detached properties, and units in a condominium project.
Here is the best part, to exercise the property fieldwork waiver, you only pay a $75 fee.
No minimum FICO score required
For HARP2/DU REFI PLUS, Fannie Mae is waiving the 620 credit score minimum requirement because the refinance transaction is expected to put the borrower in a better position, they already have the loan, and DU evaluates whether the borrower has a reasonable ability to repay. In reality, expect participating lenders to still overlay some minimum FICO score requirements but this is the first time I have seen a minimum FICO score requirement waived by Fannie Mae.
To be eligible for the HARP2/DU REFI PLUS you must be 1) current, 2) not been delinquent in the most recent 6 months, or had more than one 30-day delinquency in months 7 through 12, 3) existing loan must have been made before June 1, 2009, and 4) employed or source non-employment income. The program set to end Dec 31, 2013 per Fannie Mae
So if were you denied for that the refinance due to a high LTV, because you currently have mortgage insurance and MI wouldn't recertify the certificate or you said forget it when the bank asked for the mountain-like levels of income documentation; relief is here.